Thanet council at 'significant risk' over cash pot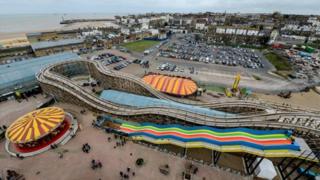 A council faces "significant risks" because of its support for a theme park and ferry company, a report has said.
The Thanet District Council (TDC) cash pot is less than a third of that compared to similar local authorities, the internal budget report claimed.
It said the council had faced a number of "unexpected" costs, including supporting Dreamland theme park.
Chris Wells, the UKIP leader of the council, said: "You'd expect reserves to be lower than average."
The report said TDC was expecting to have reserves totalling £6.6m, compared to £20m held on average by similar authorities.
It said the council had suffered "a number of unexpected, unbudgeted events" in recent years.
"Thanet carries far more risk than average," the report said.
The council had to pay compensation after banned live animal exports through the Port of Ramsgate, supported TransEuropa Ferries, which later went bust, and faced "a sizeable overspend" on Dreamland theme park, while under a Labour administration.
Labour councillor Peter Campbell said: "It certainly wasn't bad management, it was just a series of unlinked issues that came about at the same time."
Analysis: Helen Catt, BBC South East political editor
Not many other councils have a theme park and a port to their names, but the unusual portfolio means Thanet has taken several large financial hits in recent years.
Now some are concerned it does not have the money to take any more.
Under the coalition government, councils were criticised for sitting on large reserves and actively encouraged to spend them.
Thanet is at a level which is much lower then their neighbouring districts and councillors have now been told they need to replenish them.
Mr Wells said: "Over the last 18 months we've had to deal with 40% cuts in the revenue support fund from government, we've had to deal with the absolute costs of some very foolish decisions by previous administrations.
"In that context, you'd expect reserves to be lower than average".