Kent Police in woodland search for woman missing 20 years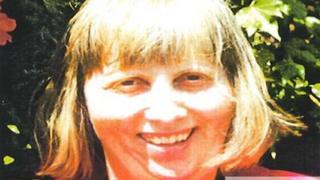 Specialist police officers and dogs are searching woodland as part of a renewed investigation into a woman reported missing almost 20 years ago.
Margaret Costen, 54, was last seen on 23 February 1997 at Pembury Hospital near Tunbridge Wells where she had been a voluntary inpatient.
She was reported missing after it was believed she had left the grounds and wandered into nearby woodland.
Kent Police said modern search techniques could yield some clues.
Extensive searches of the woodland area in Pembury were made at the time she disappeared but nothing was ever found.
Insp Ray Quiller said: "It has been a very long time since Margaret was reported missing and these woodland searches will be about trying to find any evidence or clues which will help us understand what happened to her.
"Kent Police periodically reviews files around missing people and a review of this incident has led us to believe that by using modern search techniques and expertise we have an opportunity to survey areas Margaret may have walked through with more accuracy than ever before."
The search is expected to last two weeks.
Officers are also continuing efforts to trace any possible surviving relatives of Ms Costen, and any family or friends are asked to get in touch.