Marc Traylor on trial over Hersden daughter murder bid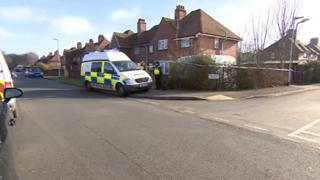 A father was shot three times by police as they tried to stop him stabbing his daughter, a court has heard.
Marc Traylor , 41, was shot by officers on 9 February, as he attacked his 16-year-old daughter at a house in Hersden, near Canterbury.
Mr Traylor has pleaded not guilty to attempted murder at Canterbury Crown Court.
A firearms officer who shot Mr Traylor once in the chest and twice in the head said the girl was in "imminent danger".
Mr Traylor, who had been diagnosed with paranoid schizophrenia, was critically injured but later discharged from hospital, his trial was told.
'Screaming with blows'
The court heard Mr Traylor, armed with two kitchen knives, had barricaded his daughter in her room.
His daughter had earlier sent a text message to her boyfriend saying her father had been "acting strangely", the jury heard.
When police arrived Mr Traylor started stabbing his daughter, the court was told.
The firearms officer said: "I saw him stab her several times as I entered the room, and she was screaming with the blows.
"He looked at me as I entered and I could see the determination and anger on his face.
"I realised her life was in imminent danger."
The officer then shot Mr Traylor three times.
'Stopped taking medication'
Mr Traylor has twice been detained under the mental health act, the court heard.
Prosecutors said Mr Traylor's wife admitted he stopped taking his medication a week before the attack.
Two medical reports have since said he was "insane" at the time of the attack.
The trial continues.