Hospital apology over Canterbury nurse sex attacks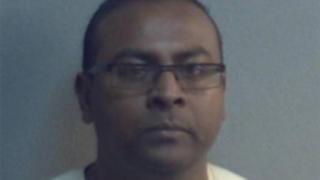 A hospital trust has apologised after six people, including a 15-year-old girl, were raped or sexually assaulted by a nurse.
Vijay Bundhun, 42, of Tonford Lane, Canterbury, was jailed for 11 years in August 2015.
An independent report found the Kent and Medway NHS and Social Care Partnership Trust failed to link a series of complaints about Bundhun.
The trust's chief executive said she was "just so very sorry".
Four of the nurse's six victims were trust service users and one was a student nurse. The other victim had no connection with the trust.
The report by Verita said the trust investigated each accusation "in isolation" and managers did not maintain or record information, or hand over personnel files.
It identified 11 incidents of alleged misconduct against Bundhun during the 12 years he was employed by the trust. The first complaint was made against him in 2004.
He was suspended in March 2014 and sacked in June 2015.
'Just devastating'
The report said managers must feel empowered and supported to take disciplinary action "when their instincts tell them to".
It said the trust had missed an opportunity to have a central overview of its nurses who faced disciplinary action.
Trust chief executive Helen Greatorex said: "I'm just so very sorry to see a nurse who is trusted with the greatest privilege of looking after others do what he did.
"It's just devastating. We failed patients and we failed staff too.
"People were doing what they thought was the best thing but our systems weren't strong enough."
The report found the HR department was undertaking various projects to improve communications between managers across the trust's sites.