Calais children: 'Financial burden' for Kent, says Paul Carter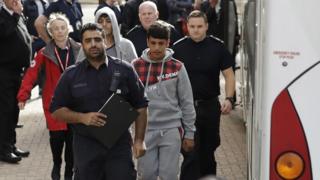 Over 1,300 young migrants are being cared for in Kent, aside from those arriving in the UK due to the clearing of the "Jungle" migrant camp in Calais.
Kent County Council leader Paul Carter said there was an "enormous financial burden" on local taxpayers as a result.
"We don't get full cost recovery, and the dispersal system... is not reducing down the numbers," he said.
Charlie Elphicke, Tory MP for Dover and Deal, said more parts of the UK should also be taking unaccompanied minors.
"I think the right thing to do is for other areas of the country to step up to the plate and do their bit.
"They've left Kent and the Dover front-line with massive pressure on our public services, and it's just unacceptable," he told BBC Radio Kent.
French police and officials began an operation to clear the Calais migrant camp, where some 7,000 people have been living in squalid conditions, on Monday.
The demolition of the camp is expected to take place on Tuesday.
The UK has begun to accept some of the estimated 1,300 unaccompanied children from the camp.
Some have family in the UK and others are without relatives here, but judged to be vulnerable.
Live reports of the Jungle clearance
Mr Carter said he understood that several of the young people being assessed in the UK "are suggesting they've got relatives in Kent that they'd like to move in with, so we're doing the necessary checks in that direction".
"Then we have leaving care responsibilities to support them as we would any other young person that's looked after [after] leaving care," he said.
Kent County Council said there were 746 unaccompanied asylum seeker children under the age of 18 in its care.
The council is also providing for 602 care leavers aged between 18 and 24 years-old, a council spokesman said.