Woman dies after two cars crash in Cranbrook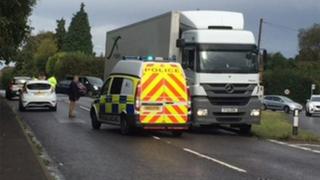 An 85-year-old woman has died in hospital after a collision between her car and another vehicle.
The local woman was driving a Peugeot which collided with a Ford driven by a 22-year-old man in Angley Road at the junction with Cranbrook High Street.
Kent Police said the other driver was also taken to hospital with injuries not believed to be life-threatening.
The A229 was closed for five hours after the accident at 13:38 BST on Saturday.
Det Sgt Scott Lynch said: 'It was a busy Saturday afternoon so there may have been a number of people who saw the collision.
"We would ask witnesses to contact us if they haven't already spoken to an officer."