Shaun Richards death: Tonbridge telegraph pole crash driver 'kind-hearted'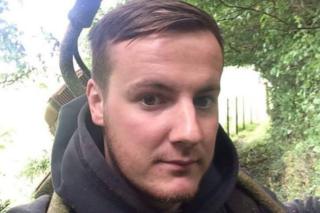 A man who was killed when the car he was driving hit a telegraph pole was a "kind-hearted soul who lived life to the full", his family said.
Shaun Richards, 24, from Hildenborough, died when his Peugeot 306 crashed on Shipbourne Road near Tonbridge at about 03:20 BST on Saturday.
A 25-year-old man from Hildenbrough and a 24-year-old Tonbridge man were injured and taken to hospital.
Mr Richards enjoyed spending hours walking with his dogs, his family said.
They added: "As a friend you could not have wished for any better, and as a brother and son he took on the responsibility when, like Shaun, his father passed away far too soon.
"He loved animals and took great satisfaction in spending hours walking his dog in the countryside and telling stories about his pet fish."
They continued: "He took pride in his work and gained great satisfaction out of sculpting the best-looking hedges in Kent."