Ex-partner 'scared' after John Soares arrest warrant is rejected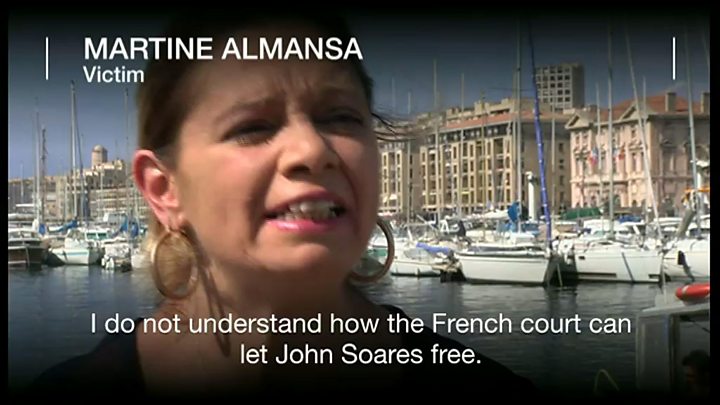 A woman repeatedly shot at by her partner with a high-powered airgun has spoken of her ongoing fear after his European Arrest Warrant was rejected.
Martine Almansa was attacked by John Soares in Kent in 2003 before he fled abroad.
But French judges refused to extradite him earlier this month after he was tracked by the BBC to the French territory of Reunion in June.
"I am feeling lost, stressed and anxious," Ms Almansa said.
"I can't sleep at night. I am scared he is coming."
Soares repeatedly fired at Ms Almansa's body and face in front of her daughter when they lived together in Ashford.
The pellets remain embedded in her leg bone.
Soares twice failed to appear for trial in Kent - in 2004 and again in 2012 - before, in May 2012, Maidstone Crown Court found him guilty of grievous bodily harm in his absence and sentenced him to 12 years in jail.
Kent Police said Soares was released by the authorities on Reunion because of "incompatibilities between the French and UK justice systems".
His lawyer Estelle Guyon said the court decided it was not certain he was informed of the date of his trial in Kent in 2012 and of the consequences for him if he did not attend.
Ms Almansa, who now lives in Marseilles, said she believed the French court had made a mistake in freeing Soares.
"I just want justice," she said. "This is not fair for my family.
"I have nightmares every night."
Kent Police said it had requested notification if Soares leaves Reunion Island.
It added: "A request has also been made with Interpol to be alerted if he enters another country.
"Kent Police has not received any notification that Soares has moved."