Kent's fostering service 'needs to improve'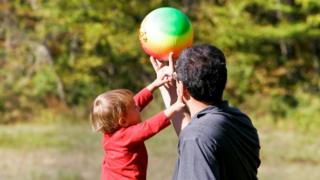 The fostering service in Kent needs to improve, an independent report has concluded after the county council said it faced a "recruitment crisis".
The independent report, commissioned by Kent County Council, said the authority was not "delivering the requirements of a good fostering service".
The authority said it had commissioned the report to highlight areas that needed improvement.
On Wednesday the council said it needed to recruit more foster carers.
The number of children entering the authority's care has risen from 899 in 2013-14 to 1,593 so far this year.
The report was carried out by Sally Pillay, who is the head of fostering in three London boroughs, and consultant social worker Sania Khan.
'Extremely proud'
It states: "In the view of the reviewers, the council is not currently delivering the requirements of a good fostering service.
"In considering the grade, the reviewers judged the authority to be one that requires improvement - measured through the Ofsted criteria."
However, it added: "It should be noted that there are no widespread or serious failures that create or leave children at risk of being harmed.
"The welfare of looked after children is safeguarded and promoted."
The council previously said the number of unaccompanied children seeking asylum stood at 792, compared with 368 in March 2015.
Peter Oakford, cabinet member for children's services, said: "Our children's services is always striving to improve and we know there were some particular problems with the administration of our fostering service.
"We commissioned this report to have a really in-depth look into the service we offer to highlight areas we need to improve.
"I'm extremely proud of the work our socials and our foster carers do. That side of the report is very good."