No inquiry into Romney, Hythe and Dymchurch train crash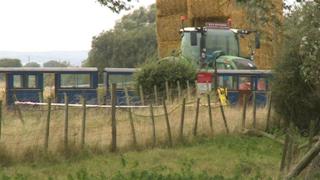 Rail accident investigators will not be staging an inquiry into a crash between a miniature steam train and a tractor.
Five people, including the train driver, suffered minor injuries in the crash in Dymchurch in Kent.
Fifty passengers were evacuated from the Romney, Hythe and Dymchurch Railway train when it derailed on 10 September.
The Rail Accident Investigation Branch (RAIB) said: "The law gives us discretion about whether or not to investigate less serious accidents."
The driver of the train was praised for the way he rushed to the aid of passengers.
Driver 'amazing'
Local resident Sandra Leverick said she saw the man "hurl himself out of the engine" as it went over on its side.
"He immediately went into that first carriage, which was an open carriage, and started getting passengers out.
"The driver was amazing."
The engine and the first carriage came off the tracks, on to their side, with the remaining 12 carriages unaffected.
The RAIB said: "Having assessed the evidence which has been gathered to date, we have decided not to conduct a full investigation, but to publish a safety digest."