Lorry driver acquitted over Southborough 13-vehicle crash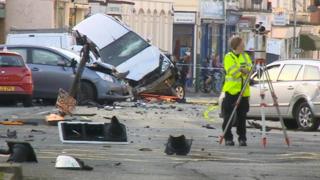 A lorry driver accused of dangerous driving after a crash involving 13 vehicles in Kent has been acquitted.
Mariusz Sudol, 35, of St Mark's Avenue, Northfleet, pleaded not guilty at Maidstone Crown Court.
Three people were injured, though none seriously, in the collision on London Road, Southborough, on 10 June 2015.
Mr Sudol said he was sorry for the upset and anguish that was caused but he had been unwell and did not know it.
The prosecution offered no evidence, citing medical information, and Sudol was acquitted.
'Genuine' apology
The defence barrister, Ian Bridge, told the court: "Mr Sudol wishes to express his apologies to all those affected."
The Judge, Matthew McDonagh, said: "I accept that his apology is a genuine one and reflects his remorse.
"These are serious charges, but the prosecution understandably in my mind, have correctly taken a view not to proceed with these allegations."
He told Mr Sudol the court accepted his apology, adding: "You will leave the court as if a jury had found you not guilty."
A spokesperson for CPS South East said: "We have a duty to keep cases under review and after we received a report from the defence by a medical expert about Mr Sudol's health at the time of the accident, we instructed our own medical expert for a response.
"Having considered both expert medical reports, it was decided that there is insufficient evidence to provide a realistic prospect of conviction."