Replica WW1 plane crashes in Kent field after Somme commemorations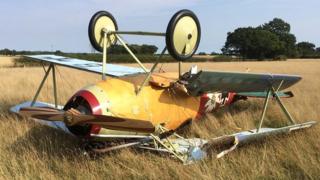 A replica World War One plane crash-landed in a field in Kent hours after taking part in New Zealand's Battle of the Somme centenary commemorations.
The Albatros aircraft suffered engine failure after it had performed a poppy drop in front of Prince Charles and other dignitaries in Longueval, France.
It crashed in a field in Bethersden, near Ashford, at about 14:20 BST and ended up upside down.
Kent Police said nobody was hurt in the crash.
David Kember, duty controller at Headcorn Aerodrome in Kent, said the pilot had "tried to land in a field but caught a fence".
He said the smash had caused "substantial damage to the plane's wings".
Kent Police said the crash had been "passed to the Air Accident Investigation Board".