Dover rail line reopens after sea wall collapse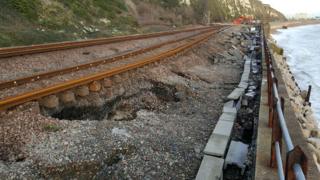 Train services between Dover Priory and Folkestone have restarted following a nine-month project to repair a damaged sea wall.
The line was closed on Christmas Eve when huge cracks appeared in the wall at Shakespeare Bay during high tides.
Passengers had to rely on bus replacement services when Southeastern trains were cancelled.
Both the track and the sea wall were repaired, at a cost of almost £40m.
The first train to use the repaired line earlier was the Folkestone to Dover 05:47 BST service.