Lorry strikes railway bridge and sheds load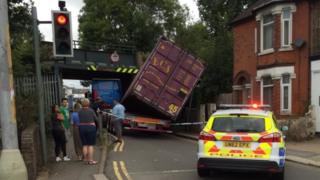 A lorry came to an abrupt stop when it crashed into a railway bridge in Dover, with its load tipping precariously close to a house.
Kent Police said no-one was injured in the collision in Coombe Valley Road, which happened just after 12:30 BST.
Network Rail and Highways England were called in to assess the situation and check the bridge.
Train services between Dover and Canterbury East were being delayed as a result, Southeastern said.
"Recovery is currently under way of the vehicle. We still have officers at the scene, managing traffic," police added.