Dover rail line to reopen ahead of schedule on 5 September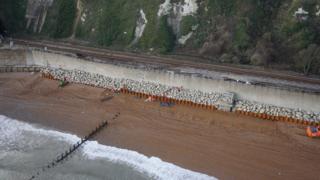 A train service between Folkestone and Dover will reopen three months ahead of schedule on 5 September, Network Rail has announced.
The line was forced to close on Christmas Eve 2015 after extensive damage to the sea wall was found at Shakespeare beach.
Passengers had been using a replacement bus service while Network Rail completed a £39.8m repair project.
Chief executive Mark Carne said it was a "huge achievement" for all involved.
MP for Dover and Deal Charlie Elphicke described the work as "a tremendous piece of British engineering, and a tribute to the dedication of both Network Rail and Costain staff".
Network Rail's route managing director for the South East, John Halsall, said parts of the railway between the two towns had been "completely destroyed".
The repair work involved a 235m long viaduct supported by more than 130 concrete columns.
Mr Halsall said engineers had been working round the clock "completing this repair work in just nine months when a job like this would normally take two years".
Richard Dean, Southeastern's Train Services Director, said it was "great news" the line would reopen in "just a fortnight".
Network Rail said there would be three Sundays of follow-up work to complete, which would allow "smoother and quieter journeys".
The work will take place on the 11 September, 2 October and 9 October.