UKIP regains control of Thanet Council in local by-elections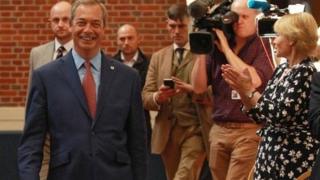 UKIP has recovered control of Thanet District Council after regaining two seats in a local by-election.
The party first secured a majority on the council in May 2015 at a time when it failed to make a breakthrough at the general election in the area.
But several defections later, largely due to perceived inaction over Manston Airport, its majority vanished.
The by-elections for two seats in the Northwood ward followed the resignations of two independents.
The composition of the council is now: 29 UKIP councillors; 18 Conservatives; five Labour; two Democratic Independent Group; and two Independent Group.
UKIP is in the midst of a leadership contest to succeed Nigel Farage, who resigned after Britain voted to leave the EU.
Following the result, key UKIP figures took to Twitter to celebrate.