Kent PC Nicholas Reeves dismissed over restraint death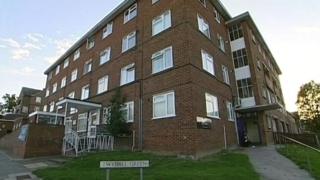 A police officer has been dismissed over his handling of a mentally-ill man who died after being restrained.
Kent Police said PC Nicholas Reeves faced an allegation he restrained Colin Holt in a dangerous position.
A post-mortem examination found the 52-year-old died of positional asphyxia.
Mr Reeves also faced claims of inappropriate use of police premises and his police mobile phone. A disciplinary panel ruled his actions amounted to gross misconduct.
Mr Holt died in August 2010 at his flat in Goudhurst Road, Twydall, in Gillingham.
'Death a tragedy'
An inquest last year returned a narrative verdict.
The Independent Police Complaints Commission (IPCC) said it began an investigation into PC Reeves's actions as a result of inquest pathology evidence.
The watchdog said Mr Holt was handcuffed and restrained over a chair in a kneeling position.
He had been arrested after he went missing two days earlier following detention under the Mental Health Act.
'Duty of care'
In a statement, Kent Police said: "The death of Mr Holt was a tragedy, and a number of officers have since faced disciplinary action.
"Kent Police has made great strides in the training that officers receive in relation to people suffering from mental health episodes, as well as controlled restraint."
IPCC commissioner Mary Cunneen said: "PC Reeves failed in his duty of care to Mr Holt by not repositioning him during the period of restraint and failing to ensure his breathing was not compromised.
"It was unnecessary to keep Mr Holt in the position the officers did for any length of time, which the inquest found contributed more than minimally to his death."
PC Reeves, who did not attend the hearing, has the right to appeal.