Residents warned as fire destroys Monkton warehouses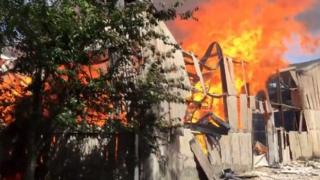 Residents were told to keep their windows and doors shut as a precaution while firefighters tackled a blaze at warehouses in Kent.
The road was closed as smoke billowed above the storage buildings in Monkton Street, Monkton, near Ramsgate.
Kent Fire and Rescue Service said eight fire engines were at the scene.
Crews salvaged farm equipment and stopped the blaze spreading to other properties but the warehouses were destroyed.
Neighbours were later given the all-clear but firefighters remain on site.
The cause of the fire is not yet known.