'Limited benefit' Yalding flood schemes dropped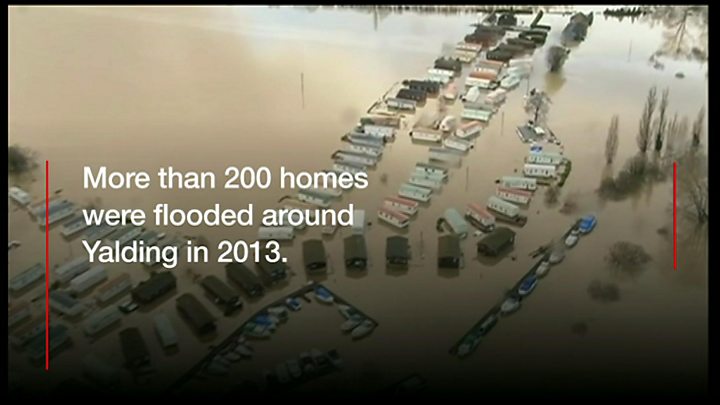 Flood storage areas designed to protect villages which were under water in 2013 have been ruled out in favour of protection for individual homes.
The areas on the Rivers Teise and Beult in Kent were part of a £35m scheme to protect Yalding, where more than 200 homes were flooded over Christmas 2013.
The Environment Agency (EA) said communities would be better served by more localised flood defences.
Storage is when excess water is either held back in a floodplain or diverted.
Limited benefit
The only part of the original proposals still going ahead is improvements to the existing Leigh Barrier on the River Medway outside Tonbridge.
Helen Grant, MP for Maidstone and the Weald, said she was "hugely disappointed" that the EA's computer modelling had shown the Leigh Barrier improvements would have limited benefits.
The EA also said it was doubtful work on the Beult and Teise would offer significant benefit.
It now says 32 properties on the Beult and 96 on the Teise could be protected for £16m.
Kent County Council, which will contribute to the cost, said money would be spent on each house that was at risk to prevent flooding and improve recovery time.
"For instance, the electrics will be moved up the walls and boilers will be moved so they don't get flooded," said Councillor Matthew Balfour.
Yalding Parish Council chair Geraldine Brown, whose house was flooded in 2013, said the work needed to be done quickly.
"We have been dithering around for two-and-a-half years and we need to get on with it," she said.
The EA said it had been working closely with people in Yalding, Collier Street and Laddingford.
"Detailed studies show they will be better served by more localised flood defences and individual property protection, targeted directly at communities at greater risk," it said.