Jamboree Kent scout Charlie Girling was a 'lovely son'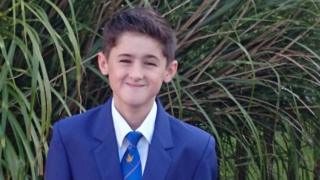 The family of a 12-year-old scout who died at an international jamboree in Finland have paid tribute to a "lovely son" who "lived life to the full".
Charlie Girling, of the 1st Aylesford Scouts, in Kent, collapsed on Sunday at Roihu 2016, near Hämeenlinna.
His parents, Helene and Les, and siblings, Abby and Jack, said in a statement they would "miss his cheeky smile, floppy hair and cuddles".
"We are so sad that he will never fulfil all his dreams," they said.
Charlie was described as a keen footballer who did well at school and enjoyed scouts.
His family also thanked "everyone for all their care, everyone at Roihu who could not have done more for Charlie, and the leaders of 1st Aylesford Scout Group and the wider Scouting family".
More than 16,000 people, including 2,800 scouts, are attending the jamboree in the south of Finland.
The UK Scout Association said after Charlie collapsed, the on-site medical team and local paramedics "rendered immediate support but unfortunately were unable to save him".
Spokesman Simon Carter said they were working with the Finnish Scout movement and the relevant local authorities to establish the full details of what had happened.
Memorial services have been held at the event in tribute to Charlie.
He had been a Year 7 pupil at Maplesden Noakes School, in Maidstone.