Brexit call for Ramsgate live animal exports ban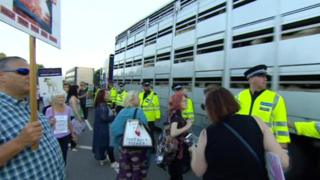 Protesters at the Port of Ramsgate say they hope the vote to leave the EU will allow live animal exports to be banned.
About 50 people blocked the path of lorries carrying sheep as they entered the Kent port for first shipment of live animals of the year.
Live animal exports were banned in 2012 after the deaths of more than 40 sheep. The ban by Thanet District Council was later overturned by the High Court.
Former Green Thanet councillor Ian Driver called the trade "barbaric".
Speaking to protesters, Mr Driver said he was at the port demonstrating his opposition to "this cruel and barbaric trade".
'Stop the trade'
He said: "Brexit will allow the laws to be changed and for this evil trade to be stopped.
"I'd like to hope this trade is stopped within two years with the Brexit negotiations. It would be nice if the government tried to bring it forward in the negotiations."
Craig Mackinlay, the Conservative MP for South Thanet, said: "Single market rules will be the deciding factor once we can leave the EU and we will have complete freedom to stop this trade from local council owned ports, which Ramsgate is."
He said the transport boat MV Joline used to carry live animals to Europe was not a suitable vessel.
NFU spokesman Frank Langrish, who farms sheep on Romney Marsh, said: "I don't think anyone would dispute that Ramsgate and Joline are not ideal, but the protesters are looking at this in completely the wrong way.
"They need to be persuading the large ferry companies to carry our local livestock."
Two sheep drowned at Ramsgate in September 2012, and 44 had to be destroyed after the lorry carrying them was stopped at Ramsgate by animal health inspectors.
In a separate accident six fell in the water, with four being rescued by RSPCA officers while two animals drowned.