Pilot, 91, stuck in a tree after microlight crash in Edenbridge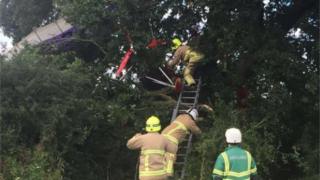 A 91-year-old pilot got stuck in a tree after his microlight crashed in Kent.
The aircraft got entangled in the branches of the oak tree about 15ft (4.6m) above a field near Lingfield Road at Edenbridge, on Saturday afternoon.
Fire crews eventually managed to free the pilot using ladders, lines and a winch.
The elderly man was treated for possible neck and chest injuries and taken to hospital for X-rays.
The Air Accidents Investigation Branch has been informed.