New gravestone for 1898 Hildenborough rail crash deaths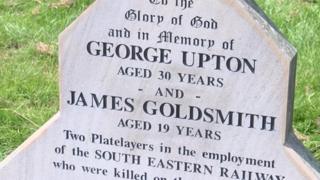 Villagers have raised £2,600 to restore a gravestone for two local men killed in an 1898 railway accident.
George Upton, 30, and James Goldsmith, 19, were working on the track when they were hit by an express from London at Hildenborough, Kent.
Their foreman, James' father George, witnessed the accident, which has been remembered in the village for decades.
Now a history society has refurbished their headstone and installed a memorial plaque at the local station.
George Upton's great-granddaughter Judith attended the ceremony on Saturday.
"The story was passed down by my family. It was such a tragic accident at the time and the whole community came together," she said.
"The original headstone was paid for by parishioners, even though a lot of them were very low wage-earners."