Brexit: Kent farmers told EU payments safe during negotiations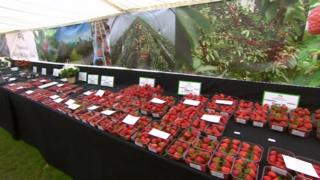 The man responsible for the EU's agricultural policy has told Kent farmers their payments are safe while Brexit negotiations are under way.
"Nothing in agriculture changes until the negotiations are completed," Phil Hogan told a gathering of farmers at the Kent County Show.
"By way of summarising this, as long as you keep paying in we will keep paying out."
Mr Hogan said he was at the Detling show to reassure farmers.
"When the exit negotiations are completed we then sit down to the business of doing a free trade agreement between the United Kingdom and the European Union," he said.
Kent voted overwhelmingly to leave the EU in the referendum on 23 June.
Out of 970,000 people who voted, 59% wanted to leave and 41% to remain.
Mr Hogan, the EU Commissioner for agriculture and rural development, said the consequences of leaving the EU had been debated in the months leading up to the vote.
"It shouldn't come as any surprise what the implications are one way or the other," he said.
But some farmers said they were concerned that trade negotiations may not start until exit talks were complete.
"It puts us in a different competitive position and it will have price impacts on food because trade is a two-way process," said Allan Buckwell, chairman of Kent Country Land and Business Association.
"None of this was explored in the referendum debate and I think it will come as a bit of a shock if it's true."
Upchurch fruit farmer Robert Hinge said Mr Hogan had done nothing to allay his concerns about the possible loss of seasonal labour from Eastern Europe when Britain left the EU.
Kent County Show which runs for three days, is being held one week earlier than in previous years to avoid clashes with harvest time.
Kent Local Live: follow the latest updates on the county show