Flooded manor Ightham Mote reopens to visitors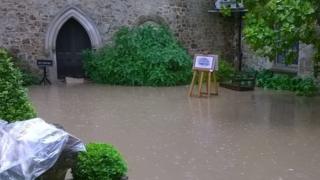 A 14th-century manor house closed by flash flooding has reopened to the public.
Several ground-floor rooms at Ightham Mote, a National Trust property near Sevenoaks in Kent, were under water after heavy rain on Saturday.
The courtyard, gardens and cottages were also affected after a brook burst its banks. The National Trust said the majority of the house was now open.
Seventeen homes in Ightham were also flooded.
Some areas of the manor house remain closed for salvage, ventilation, conservation repairs and expert inspections.
"Our team of staff and volunteers has worked miracles to clean up and care for the collection and affected rooms," said manager Bernadette Gillow.
Ightham Mote was left to the National Trust in 1985 and underwent a £10m conservation and repair programme taking 15 years.
It attracts 130,000 visitors per year.