Threatening post on South Thanet MP's Facebook page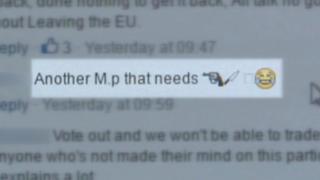 Images of a gun and a knife have been posted on the social media page of an MP, days after Labour MP Jo Cox died after being shot and stabbed in her constituency.
The symbols were posted on the Facebook page of the Conservative MP for South Thanet, Craig Mackinlay.
The posting was prefaced with the message: "Another MP that needs..."
Kent Police said it was investigating a report of threatening or offensive communications made on 18 June.
Mr Mackinlay told the BBC his wife and staff were concerned about the post. He said he had been in contact with Kent Police.
Mrs Cox, 41, the Batley and Spen MP, died after being shot and stabbed in Birstall, West Yorkshire, on Thursday.
She was attacked shortly before she was due to hold a constituency surgery.