Eurotunnel service 'operating normally' after Calais clashes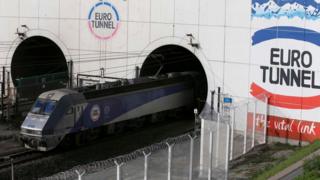 Eurotunnel has said its services are operating normally after clashes between French police and migrants resulted in delays on Monday.
Road traffic had been blocked as police fired tear gas to disperse 200 to 300 migrants, French officials said.
Groups tried to board lorries caught up in queues at Calais that were caused by "reinforced border checks" and motorists returning from Euro 2016.
Further delays were caused by an "unplanned inspection" in the tunnel.
Officials said increased traffic had also been caused by people returning from the Le Mans 24 Hours race.
On Tuesday, police in France said the situation in Calais was now calm.
Eurotunnel said services had returned to their normal operating schedule by Tuesday morning after the backlog was cleared.
French police said at least one person had been arrested for "throwing a projectile" during Monday's disruption.
Earlier, Eurostar had been forced to reschedule trains from Paris and Brussels heading to London St Pancras because only one line was open in the tunnel.