Meningitis B: Faye Burdett parents 'keep raising awareness'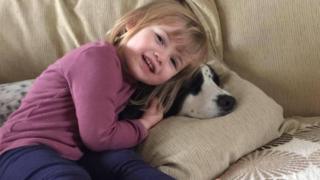 The parents of a toddler who died from meningitis B have vowed to keep raising awareness of the disease, despite the government rejecting vaccination pleas.
Neil and Jenny Burdett gathered more than 800,000 signatures on an e-petition after sharing harrowing pictures of their daughter, Faye.
The government rejected the call to a protect all under-fives with a vaccine.
"We have raised awareness and more people know about Faye because of the campaign," said Mrs Burdett.
'Paying privately'
"We used the system that was put in place for us to get 823,000 people's voices heard and sadly we didn't get what we wanted.
"It is disheartening that more children aren't protected but we know that parents are paying for their children privately."
The couple were speaking at a "sponsored toddle" in memory of Faye run by the nursery she attended in Maidstone, Kent.
So far it has raised about £10,000 but organisers expected to exceed that.
Two-year-old Faye died on Valentine's Day after fighting the infection for 11 days.
Her parents shared pictures of her in her hospital bed and started the petition calling for the meningitis B vaccine to be given to all children under 11.
At present the jab is offered to only children in their first year of life.
Mr and Mrs Burdett said Faye would have loved Sunday's fundraising event.
"It is exceptionally humbling for us to think that people will go out of their way to organise something so incredible in memory of our daughter," said Mrs Burdett.
"It is about celebrating children and families but just in the background reminding people to be vigilant and beware of meningitis.
"Don't rely on doctors because they really struggle - it is so hard to diagnose
"Just trust your instincts and be persistent with them if you know your child is not right."
What is meningitis B?
It is a bacterial infection that usually affects children under one year old.
There are about 1,200 cases each year in the UK.
Symptoms include a high fever with cold hands and feet, confusion, vomiting and headaches.
With early diagnosis and antibiotic treatment, most people will make a full recovery.
It can be fatal in one in 10 cases - and about one in four of those who survive are left with long-term problems, such as amputation, deafness, epilepsy and learning difficulties.
Meningitis is an infection of the meninges - the membrane that surrounds the brain and spinal cord.
There are effective vaccines against other strains of meningitis - but, until now, not against Meningitis B.