Canterbury firm fined £1m over Matthew Hoare's tyre explosion death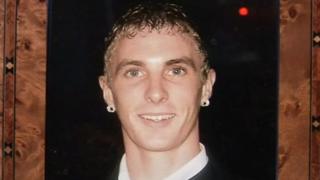 A tyre firm has been ordered to pay £1m after one of its workers was killed when a tyre exploded in his face.
Matthew Hoare, from Chartham, who worked at the Canterbury branch of Watling Tyres, was killed in 2006 when the tyre he was inflating exploded.
The company pleaded guilty to health and safety breaches.
In May a director at the company, Andrew Wright, was cleared of the same breaches after a trial at Canterbury Crown Court.
Mr Hoare had been sent to fix a puncture on an earth mover in Sandwich in January 2006 when the tyre blew up killing him instantly.
The court had heard he had been given insufficient training, that risk assessments were inadequate, and the equipment he was using on the day of his death was faulty.
The firm was ordered to pay £1m plus legal costs by 31 August following a hearing at Canterbury Crown Court earlier.
Mr Hoare's mother, Carolyn, said: "Obviously for me, no amount of fine would compensate for my 21-year-old son's life.
"He went to work to do his job and I feel he was let down by a lack of health and safety in training."
Tim Galloway, from the Health and Safety Executive, said: "The judgement reflected on the nature of the offence, the lack of training for Matthew, the poor quality of the depot and the condition of the equipment."