Labour member's 'anti-Semitic' suspension lifted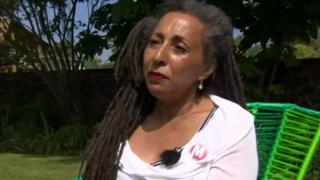 A senior Labour activist who was suspended from the party over alleged anti-Semitic comments on Facebook has been reinstated.
Jackie Walker's suspension was lifted following an investigation, the party said.
The Kent activist and vice chair of the Momentum movement wrote about "the African holocaust" and Jews as "chief financiers of the slave trade".
She said the past few weeks had been "a living nightmare".
Ms Walker said: "I am glad this investigation has fully cleared me of any wrongdoing.
"I am not a racist, but I robustly defend my right and the right of others to speak openly and frankly about matters of grave political and historical importance."
At the beginning of May the The Jewish Chronicle reported that it alerted Labour to her comments.
It also said a new poll suggested support for Labour among British Jews had fallen to 8.5%.
In response Labour leader Jeremy Corbyn set up an independent inquiry into accusations of anti-Semitism and racism in the party.