Legal advice sought on Canterbury grammar academy plan 'concern'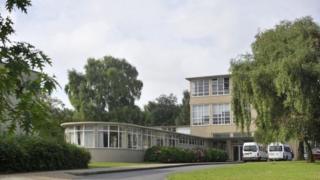 Kent County Council is taking legal advice after parents expressed concerns about plans to turn a school into an academy to "drive improvements".
Simon Langton Girls' Grammar School in Canterbury wants to change status and form a trust with Spires Academy.
Some parents fear the plans are being rushed and more than 1,000 people have signed a protest petition.
The authority said the school agreed to delay a vote on the change but it was seeking the advice on "issues raised".
'Current position damaging'
Kent's education director Patrick Leeson met the school's head teacher, chair and vice chair of governors on Wednesday "for a detailed discussion on the current position".
"It was made clear to the school that the current position is damaging to the school and that a new way forward is needed," a council spokesman said.
"The outcome of the meeting was positive with the school agreeing to hold a new meeting for parents in early June and confirming that the planned meeting of the governing body on 25 May to vote on or decide whether to proceed with the academy proposal would be delayed until after the new parents meeting."
He added: "Kent County Council is still seeking legal advice on issues that have been raised by a number of parents, staff, students and governors around the wider decision making process in respect of the academy conversion."
Under the proposed change of status, Simon Langton Girls' Grammar School would remain selective and create a multi-academy trust with Spires Academy in Canterbury. More partner schools could be added in future.
The school said being an academy would give it "greater freedom to spend our money where we think it will most benefit our students".
A consultation on the plans ended on 16 May.