Fundraiser Jonjo Heuerman youngest British Empire Medal recipient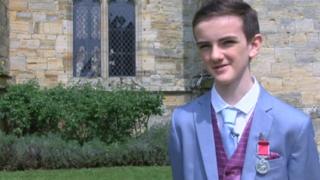 A prolific teenage fundraiser from Kent has become the youngest recipient of the British Empire Medal.
Jonjo Heuerman, 14, from Dartford, received the medal earlier at Penshurst Place.
He has raised more than £250,000 for Cancer Research UK's Bobby Moore Fund with a series of walks and bike rides.
He received the award while wearing a waistcoat covered in the names of family friends and supporters who died from cancer.
He said: "I was quite nervous, quite shy. I didn't want to look up at the Lord Lieutenant and start crying because of how proud I was.
"They read out what I do and I got a round of applause.
"The Lord Lieutenant actually complimented me on my waistcoat. It's been a really good day."
Jonjo trekked to Wembley from Germany during the Easter holiday and has walked and cycled 800 miles between all the clubs in the Premier League.
In 2014 he also dribbled a football from Southend to West Ham United's ground over five days, covering 50 miles.
He began raising money for charity following the death of his grandmother from bowel cancer.
His father, Gary, said: "I was very proud to see him receive the medal and all the hard work that he's done for the past five years has paid off for him."