Watling Tyres: Director cleared over tyre-fitter death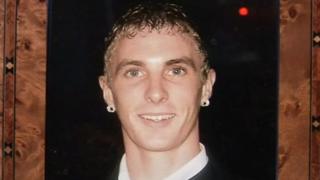 A director of a tyre company has been cleared of health and safety breaches following the death of a 21-year-old worker in 2006.
Andrew Wright, a director of Watling Tyres, was found not guilty on two counts at Canterbury Crown Court.
Matthew Hoare, of Chartham, who worked at the Canterbury branch, was killed when a tyre he was pumping up exploded.
The company pleaded guilty to two breaches of health and safety law in January and will be sentenced in June.
The court had heard how Mr Hoare had been given insufficient training, that risk assessments were inadequate, and the equipment he was using on the day of his death was faulty.
Mr Wright, who was the head of health and safety at Watling Tyres, was found not culpable for the failures that led to his death.
The prosecutions were brought by the Health and Safety Executive (HSE).
Spokesman Mike Walters said: "The HSE always seek to bring prosecutions to court where it is believed there may be a case to answer and it is in the public interest.
"However, in this instance, a jury ruled that Andrew Wright did not breach any health and safety laws.
"The HSE will continue to enforce health and safety legislation, and take appropriate action when we believe a breach has occurred."
The court heard Mr Hoare, of Chartham, had been a tyre-fitter for six months.
He was called out in January 2006 to fix a puncture on an earth mover at a former brickworks in Sandwich.
During the course of the repair the tyre exploded, killing him instantly.
An inquest returned a verdict of accidental death and concluded Mr Hoare had a lack of training.
Speaking outside the court, Mr Hoare's mother said she was "gutted" at the verdict.
"I feel like my heart's been ripped out. He's irreplaceable.
"Yes, there is this verdict, but I've got to live the rest of my life, as my family do, with this hanging over us.
"This isn't the end for us. It goes on," Carolyn Hoare said.
In a statement following the verdict, Mr Wright said: "I am delighted with the verdict of the jury, but saddened by the time this has taken to come to court.
"My thoughts are with the family and friends of Matthew Hoare."