Kent PCC in renewed talks over Operation Stack costs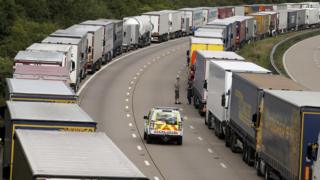 Kent's new police and crime commissioner (PCC) has held talks with the Home Secretary about recouping the costs of Operation Stack.
Conservative PCC Matthew Scott said he met Theresa May while standing as a candidate for last week's polls and carried out "some groundwork".
Former Independent PCC Ann Barnes asked for costs of nearly £577,000, but the government refused the funds.
The Home Office said further requests for funds would be considered on merit.
Under Stack, lorries park on the M20 during cross-Channel disruption.
The system was used 32 times last summer following strikes by French ferry workers, migrant activity and disruption to cross-Channel rail operations.
Mr Scott said: "I've already raised the issues of Operation Stack and the funding with the home secretary.
"One of the first things I did when I met her as a candidate [was] to discuss [this], so there is some groundwork that has been done..."
'Huge problems'
Mr Scott said one of his first jobs would be to look at the costs of Stack, how money was being spent, and how it could be policed safely without Kent taxpayers being "overburdened".
In a statement, the Home Office said: "The Home Secretary has agreed to work with the Kent Police and Crime Commissioner's office to discuss the costs of Operation Stack and what options there are going forward.
"Any further request for special grant funding from Kent will be considered on its individual merits, as with all other requests."
Freight Transport Association head of policy Natalie Chapman said: "I think everybody is concerned that we could see a repeat of last summer's disruption.
"It caused huge problems for those living and working around Kent and for drivers heading across the Channel."
Last August, measures were brought in to use former Manston Airport as an emergency lorry park to ease disruption.
In the government's Spending Review in November, £250m was allocated to pay for a new lorry park to hold freight waiting to cross the Channel.