Watling Tyres: 'Shambles led to Matthew Hoare's death'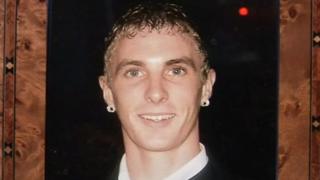 A "miserable catalogue" of health and safety failures contributed to the death of a young tyre fitter at a Kent company, a court has been told.
Matthew Hoare, 21, from Chartham, was killed instantly when a tyre he was pumping up at Watling Tyres in Canterbury exploded in January 2006.
Canterbury Crown Court heard he had been a tyre fitter for six months.
Company director Andrew Wright denies breaching the Health and Safety at Work Act and Working Time Regulations.
The jury was told a series of shortcomings led to Mr Hoare's death and that Mr Wright should not have allowed things to get as bad as they were.
Prosecutor Quentin Hunt said Mr Wright was in charge of a "shambles" in which Mr Hoare had not received sufficient training, risk assessments were inadequate and equipment was faulty.
"It will become clear that you are not dealing with a single isolated failing but a series of institutional failures within the company which is indicative of negligence at the highest level," he told the court.
The trial, which is expected to last five days, was adjourned until Wednesday.