Kent Police 999 call response 'slows', figures suggest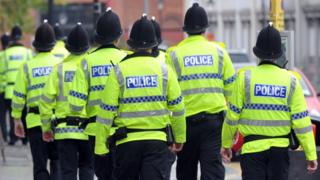 Kent Police is getting slower on average to respond to 999 calls, figures obtained by the BBC reveal.
In 2015/16, officers in the county took nearly 14 minutes on average to respond to daytime emergency calls - four minutes longer than in 2010.
The Police Federation said it was not surprised by the findings after £50m of cuts over the last five years.
In a statement, Kent Police said its focus was on the appropriate patrol to an incident rather than the quickest.
And it said, like many other police forces, it no longer set targets for attendance times.
---
999 response times (obtained by BBC Radio Kent under the Freedom of Information Act)
Average 999 response in the daytime between 06:00 and 23:00:
2010/11 - 9m, 37 secs
2015/16 - 13m, 57 secs
In rural areas the average response time is more than 16-and-a-half minutes, which is also four minutes longer than five years ago.
Overnight, the average time is 11 minutes - three minutes more than in 2010.
---
Ian Pointon, chairman of Kent Police Federation, said: "I have said from the start these cuts would have consequences.
"You don't get more for less, you only get less for less. We are providing a service to the public in very difficult, financially-tight times."
But he added: "Police officers will always respond to emergencies as quickly and as safely as they can."
The outgoing police and crime commissioner for Kent, Anne Barnes, blamed government cuts.
She said: "Response times have gone up. Police numbers have gone down." She said there was a "direct correlation".
Marian Fitzgerald, a criminologist, said: "The vast majority of demands on police are not to do with crime at all.
"They are in a triage role; the first agency that gets there in an emergency. They are holding on to the work other agencies ought to be dealing with and that is taking up more of their time."