Eurotunnel problems cause five-hour delays for passengers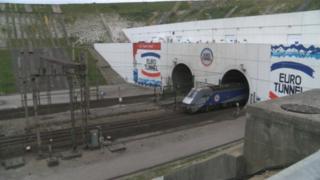 Rail passengers travelling to France on Eurotunnel's vehicle shuttle service have faced delays of up to five hours.
The problems began when a freight train became stuck in the Channel Tunnel earlier.
Separate power supply issues on the UK side followed, with Eurotunnel saying it was operating a reduced timetable.
A spokesman for the operator apologised and said the power issue in the tunnel had now been resolved and both lines were working.
Passengers waited in long queues to board the shuttles, while others were stuck inside trains.
John Allen, from Canterbury, tweeted of "Eurotunnel shambles", and said he would be using the ferry in future.
Kate Sharp tweeted: "Trapped inside your train. Been waiting 5 hours at Eurotunnel Folkstone. Awful service! When will we be moving???".
PR director Ali Ineson added: "Maybe if we all get out and push @Eurotunnel ? going a little bit delirious stuck on this train going nowhere."
John Keefe, from Eurotunnel, said delays had peaked at five hours but hoped they would reduce quickly.