Husband jailed for Caroline Andrews murder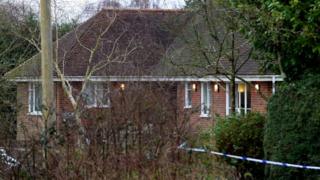 A man has been jailed after admitting he strangling his wife during a fight that "went too far".
Supply teacher Caroline Andrews, 52, died from compression of the neck at the couple's home in Benenden, Kent, on 4 February.
Her husband, Stuart Andrews, 54, pleaded guilty to murder at Maidstone Crown Court earlier.
The former Bank of England employee was given a life sentence with a minimum term of 15 years.
He also admitted stealing £267,096 from his father-in-law, Donald Breeds, who has dementia and he had power of attorney over.
Prosecutor Philip Bennetts QC said the computer programmer strangled his wife in the bedroom of the house they shared with two of their children and 95-year-old Mr Breeds.
Later that day he told one of his children their mother was unwell in bed and must not be disturbed, before dropping them off at Headcorn train station.
Mr Bennetts said Andrews later left a note in his car addressed to his "dear children" which described the "horrendous thing" he had done.
It continued: "It started as an accident when we were fighting but it went too far. Your mother was a beautiful, kind and caring person who loved you all.
"I let her down and ruined her life by being stupid with money and losing the house. Neither of us recovered from that.
"I love you too but I can't carry on living."
Manhunt
He took a train into London with his other child and after they had parted sent a text to a friend saying her body was in their bedroom and he intended to kill himself.
Andrews was arrested in London following a manhunt involving armed officers.
He spent several days in hospital with "non-life threatening" injuries after he was caught.
The court was told Andrews first got into debt in 1995 and had to sell the family home three years later.
He had negotiated the purchase of the house they rented in Benenden but kept putting it off and the landlord told them to leave by 17 February.