Train derailed by cows near Ashford 'despite a warning'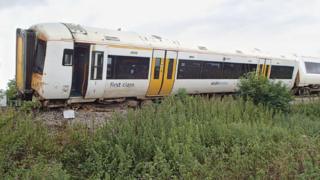 A train hit cattle and derailed despite a warning of a cow breaching a railway fence, investigators said.
A Rail Accident Investigation Branch (RAIB) report found an "insufficient" response to the alert and said the driver and signaller had not fully followed rules.
A London Charing Cross to Ramsgate train struck eight cows near Godmersham in Kent on 26 July 2015.
RAIB chief inspector Simon French said it was lucky no passengers were hurt.
The Southeastern service had been going at 69 mph with 67 passengers and three staff on board.
False alarms
The report describes how the driver of an earlier train reported seeing a cow.
A signaller told the next train to proceed with caution and to try to spot it.
The RAIB said the second driver reported he did not see any cows so the signaller "took this as his assurance the line was clear".
The signaller told the RAIB he was "mindful of delaying trains" as similar previous reports turned out to be false alarms.
The report also details how the train driver jumped out of his cab and ran down the track to halt an approaching train because his radio had stopped working.
It recommends Network Rail clarifies how signallers deal with reports of large animals inside the railway boundary.
In a joint statement, Network Rail and Southeastern said they "noted the RAIB's conclusions and recommendations" and would "continue to work together to run a safe and reliable railway".
Network Rail added it had replaced more than 1,300m of fencing in the area.