Two women arrested over Canterbury double killing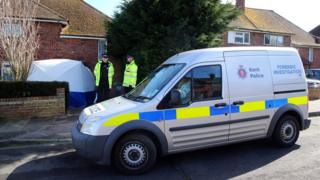 Two women have been arrested by police investigating the deaths of two people at a house in Canterbury.
The women, aged 18 and 35, were held in the early hours on suspicion of perverting the course of justice.
Magistrates have granted police extra time - until midday on Friday - to question a 53-year-old man arrested on suspicion of murder.
He was arrested at the property in Dickens Avenue on Tuesday.
Police said he is known to the victims, named locally as Natasha Sadler-Ellis and Simon Gorecki, both from Canterbury.
Post-mortem examinations on the 47-year-old man and 40-year-old woman took place on Thursday.
A 17-year-old boy and a man, aged 20, who were also injured, are thought to be Ms Sadler-Ellis's sons.
Police said the teenager was now in a stable condition and conscious. The man was released after treatment.
Friends and family have left tributes to Ms Sadler-Ellis and Mr Gorecki outside the house.
David Scopes, who was first on the scene, said he heard a call for help as he drove past the house on Tuesday.
He said one of Ms Sadler-Ellis's sons was trying to give first aid to his mother and Mr Gorecki, despite being injured himself.
"I got out of my vehicle and went into the house and saw Simon on the floor and Natasha on the stairs and just helped and did CPR as good as we could.
"It was very difficult."
Neighbours have described Mr Gorecki, a fishmonger who was well-known in Canterbury, as talkative and outgoing.
Louisa Convert said: "He was a bit of a character actually. He'd have a laugh and joke with you.
"He was outgoing and everything. But you know it's quite a shock to know what's gone on in that house."
Another neighbour, Yvonne Hendry, described Mr Gorecki as a "happy-go-lucky" person who "always said hello, good morning, good night."