Canterbury 'stabbings': Two dead, two injured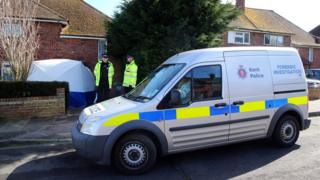 Two people were killed and two others hurt at a house in Canterbury following an altercation and reported stabbing.
A 53-year-old man was arrested at the property in Dickens Avenue just after 19:30 BST on Tuesday. He is known to the victims, but not related.
The victims have been named locally as Natasha Sadler-Ellis, 40, and Simon Gorecki, 47. Both were from Canterbury.
A 17-year-old boy and a man, aged 20, who were injured are thought to be brothers and Ms Sadler-Ellis's sons.
Kent Police said the teenager was critical in hospital, while the man was released after treatment.
The man arrested at the scene is being questioned on suspicion of murder.
Post-mortem examinations are due to take place on Thursday.
Neighbour Rab Hendry said he helped treat one of the injured, who had been stabbed in the stomach.
"I saw two lads, I believe they were brothers, and the oldest one said his brother's been stabbed in the stomach.
"I got him to the ground and saw the wound was opened right up. I put tea towels on him and put pressure on it until [paramedics] came."
Mr Hendry said the boy was panicking and "white as a sheet" so he kept talking to him to try to calm him down.
'Quiet area'
Another resident, who gave his name only as Jamie, said he saw a woman lying in the doorway of the house and what looked like the body of a man further inside.
He said police carried out CPR to try to revive them, but he understood they had died.
Residents described their shock at the killings taking place in such a "quiet area".
Charlotte Bunn who lives opposite the house said: "I only knew the people who lived there to say hello to when out in the garden or walking in the street.
"They seem all right. I can't find any fault."
The area around the house was cordoned off. A forensic tent has been set up outside the front door.
Detectives are currently trying to establish the circumstances of the incident, according to a police spokesman.