Gillingham bodies in flat: Toddler named as Lynne Mutumba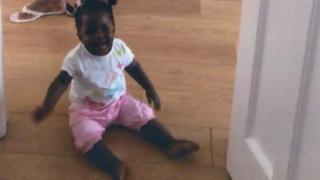 A two-year-old found dead in a flat alongside the body of a woman thought to be her mother has been identified.
Lynne Elizabeth Mutumba and Lillian Oluk , 36, were discovered inside the Trafalgar Street property, in Gillingham, on 14 March.
Kent Police said family members helped to formally identify Lynne's body.
Officers said neither death was being treated as suspicious, and they are liaising with Health and Safety officials.
Post-mortem tests have failed to establish a cause, and further tests are expected to be carried out Lynne Mutumba, the force said.