Medway Maritime Hospital staff 'turn round maternity unit'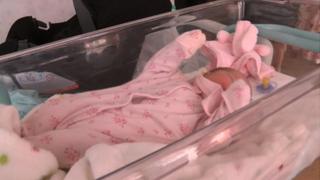 Staff at a Kent hospital in special measures have turned around the maternity unit and are now passing on their experience to colleagues.
It comes after the unit at Medway Maritime Hospital in Gillingham was branded "inadequate" by inspectors in 2013 but has now been rated "good" bordering on outstanding.
The last time I attended a board meeting at the hospital, I heard a presentation by unit staff.
They talked about how they had read the criticism of their work by the Care Quality Commission and winced.
They also talked about how they had taken a long hard look at what they did and how they did it and they talked about how they had decided to change things.
The aim was to turn their failing department into a place their friends and families would be happy to be treated in.
All the staff I met at the unit described it as a journey - a journey that has not finished.
They say they want to achieve a rating of outstanding.
Senior midwives spoke about more open channels of communication between staff and between staff and the trust's leadership team.
They told me staff were increasingly responsible for their own work environments and there was praise for the new "more open" management regime at the trust.
Medway Maritime Hospital is now in its third year of "special measures". It is uncharted territory for the NHS and this trust.
But the experience of staff in the maternity unit will be invaluable in helping the whole trust pull itself out of the position it finds itself in.