Ian Sunter death: Kent County Council admits failings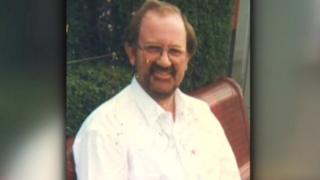 Kent County Council has admitted a number of failings in the case of a man who died after being found in squalid conditions in sheltered housing.
Ian Sunter, of Sheerness, who had Alzheimer's disease and was under the care of social services, died in May 2009 after being admitted to hospital.
At an inquest in 2015 the coroner said a failure to recognise the risks to Mr Sunter had contributed to his death.
The county council has now settled a civil claim brought by his daughter.
It said in a statement: "We accept that although not responsible for Mr Sunter's death, efforts by [Kent County Council] and its partner agencies to safeguard Mr Sunter in the months leading to his death were not good enough."
Daughter Rachel Sunter fought a seven-year battle to get to the bottom of the death of her 58-year-old father, who was admitted to Medway Maritime Hospital suffering from multiple serious injuries.
"My last words to him were, 'Dad, I promise you I'll get answers and I'll find out what happened'," she said.
"I blame the authorities big time for it. I'll never trust them again."
An inquest last year concluded Mr Sunter, who lived in St George's Avenue, died from head injuries "consistent with a fall or a push" and cirrhosis of the liver.
Coroner Patricia Harding said the risk to Mr Sunter, who had been the subject of a safeguarding alert, had not been recognised and "appropriate" precautions not taken - both of which had contributed to his death.
The council admitted failings in its adult safeguarding system in place at the time, as well as failures in training and responding to the alert raised by a housing officer. However it denied its actions caused Mr Sunter's death.
It has agreed an undisclosed payout with Ms Sunter.
"In the seven years since, all partner agencies have been working together to make sure they co-ordinate more effectively when dealing with vulnerable adults," the authority added.