Rochester riverside £400m scheme moves forward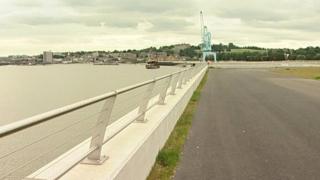 A developer has been selected for the £400m Rochester riverside scheme in Medway, with plans expected to be submitted by the end of the year.
Medway Council said Countryside Properties would carry out work over the next 12 years to build about 1,300 new homes.
The scheme also includes a school and nursery, hotels and restaurants, health care facilities and business space.
The council said work could be under way by summer next year.
It said the extensive project would span more than a decade and would be complete around the summer of 2028.
A quarter of the homes built on the 74-acre site will be affordable housing.
Councillor Rodney Chambers, portfolio holder for strategic regeneration, said: "Rochester riverside is a major part of our ambitious 20-year regeneration plan, helping us to meet the needs of Medway's growing population, with more homes, a new school and other much-needed facilities."
He said the plans were supported by the Homes and Communities Agency which co-owned the site and had invested about £60m to date to prepare it for development.