Ex-Kent youth PCC Kerry Boyd recalls stress of role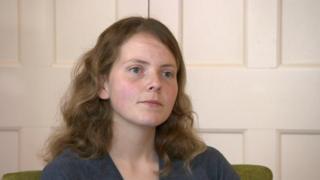 Kent's former youth police and crime commissioner has revealed that stories published about her private life forced her to seek counselling.
Kerry Boyd, 21, took up the full-time role in April 2014, a year after Kent's first youth commissioner resigned over comments she posted on Twitter.
But just two months later she was being investigated amid reports of a relationship with a married man.
She said being in the media spotlight had led her to "suffer from anxiety".
Ms Boyd had been working with Kent's Police and Crime Commissioner Ann Barnes but was forced to stop public engagements while reports of a relationship with a former county councillor were investigated.
In an exclusive interview with BBC South East, Ms Boyd, from Margate, said: "Having gone through that and hit so low where you just don't recognise who you are anymore, to then go through the recovery process, actually helped me to understand and empathise more with young people as to what difficulties they're facing."
She said she had also managed to use the experience "as a tipping point to turn her life around a bit more".
"They [Ms Barnes' office] referred me to the welfare department where I got eight months counselling.
"That professional help was very helpful," Ms Boyd said.
She added that learning to cope with the pressures of the job had made her stronger.