Westerham dog attack man 'bitten before' says mother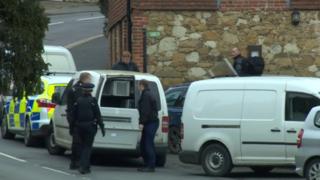 The mother of a man attacked by up to five dogs in Kent has said he was bitten by one of them a few months ago.
Stephen Morris, 42, is in hospital after being bitten on the head, neck and arms at a house in Vicarage Hill, Westerham, on Sunday.
He had been looking after the animals, believed to be bullmastiffs, for a friend. Kent Police said his injuries were not life threatening.
The dogs' owner said the animals had not bitten anyone before.
Jenny Deavall, however, said her son was previously bitten on the arm.
"He was playing with the dogs and one of them went and bit his arm to the point where he took himself off to hospital. He didn't have to have stitches," she said.
Mrs Deavall said if the owner had not been allowed to keep so many dogs her son would not have been injured again.
"If you've got a pack of animals, whether they're German shepherds or poodles or whatever, they're all going to gang up together.
"Once one goes the rest is going to go with them," she said.
The dogs' owner told BBC South East that she is a responsible owner and the animals had never bitten anyone before.
It took armed police more than eight hours to bring the animals under control on Sunday.
They were then sedated by specialists, assisted by an RSPCA inspector and an independent vet.
Kent Police said they were "managing the dogs' welfare" but it was too soon to say what would happen to them.