Maidstone and Tunbridge Wells hospitals cancel planned surgery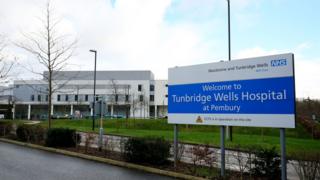 "High emergency demand" has forced the postponement for the day of planned operations at two Kent hospitals.
Maidstone and Tunbridge Wells NHS Trust said urgent procedures would still take place.
It has cancelled about 400 planned procedures since January, equating to 11% of operations it has performed.
The majority of cancellations have been within the specialities of orthopaedics, ear, nose and throat, and gynaecology, the trust said.
The trust runs Maidstone Hospital and Tunbridge Wells Hospital at Pembury.
Patient Bernard Brown said he was upset when his operation was cancelled on Thursday, the day before it was due to take place.
He said that it was "more inconvenient and upsetting and traumatising" for him that the hospital had cancelled rather than if he had.
The trust apologised to people affected, but said its main concern was to keep patients most in need safe.
A spokesman said each patient was individually reviewed to see if it would be appropriate to be offered the procedure at another hospital rather than wait for a new date.
He said the trust was also experiencing issues with delayed transfers of care, where patients are ready to leave hospital but are waiting for arrangements to be made for their on-going care needs.
"Despite all the current challenges, the trust continues to be compliant with the 18-week standard and is doing everything it can to return the elective service back to normal as soon as possible and minimise disruption for patients," he explained.
"Additionally, this month, a new ward with 38 beds will open at Tunbridge Wells Hospital, which will also help improve capacity in the longer term."