Margate's Dreamland Trust chairman Nick Laister to quit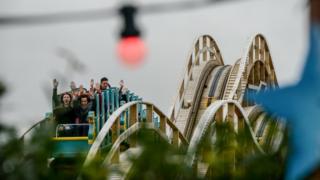 The man who spearheaded the campaign to restore Margate's £18m Dreamland theme park is to step down from his post.
Nick Laister, chairman of the Dreamland Trust, said he wanted to "concentrate on my other commitments".
He co-founded the charity in 2007 after securing listed-building status for the park's Scenic Railway rollercoaster and halting housing plans for the site.
The attraction reopened in June but operator Sands Heritage Limited has had financial difficulties recently.
Dreamland Trust worked with Thanet District Council and Heritage Lottery Fund to secure funding for its £18m restoration.
'Drive forward'
Mr Laister said: "With the opening of Dreamland in 2015 the trust is now entering a new phase, where we will look to maximise the community, education and heritage benefits resulting from the project, as well as contributing to the development of other parts of the site, such as the Dreamland Cinema.
"This seemed to me to be an appropriate point for me to step down to allow a new chair to drive the organisation forward."
He said he would stay in post until his replacement had been appointed.
In December, creditors agreed to give Sands Heritage five years to repay debts of nearly £3m to stop the operator going into administration.
Dreamland first opened in 1920 and was a popular attraction for decades before closing in 2005.
The restored seaside theme park reopened in June but the Scenic Railway, thought to be Britain's oldest rollercoaster, did not open until 15 October.