Dartford Crossing measures to cut traffic jams agreed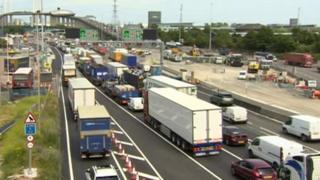 Measures to improve journey times and reduce congestion at the Dartford Crossing have been agreed by Highways England and Kent County Council.
Drivers heading northbound towards Essex have faced extensive queues and delays despite the introduction of the Dart Charge payment system in 2014.
The improvements include new lane markings, vehicle activated signs and upgraded traffic lights.
Highways England said the improvements would be in place as soon as possible.
Spokesman Tommy Whittingham said: "We need to do everything we can to keep this vital transport gateway flowing."